aka: UTIL.SYSTEM
The Apple Disk Backup System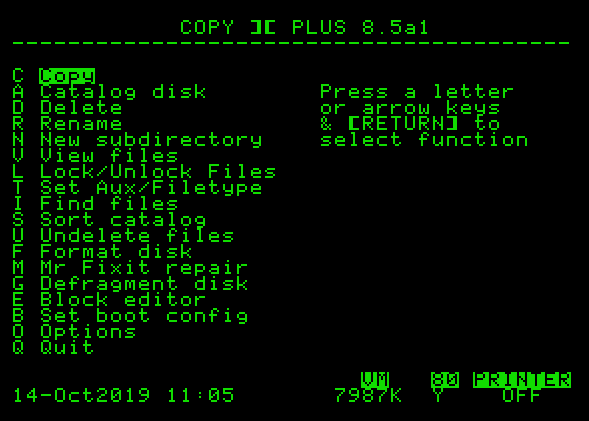 With the Copy II Plus Utilities you can:
Copy any 16 sector or 13 sector unprotected disk
Copy DOS onto a diskCopy filesCatalog a disk
Catalog showing file lengths
Catalog showing any hidden control characters
Catalog showing deleted files
Delete files
Delete DOS to free up more space for files
Delete all information from a disk
Lock or unlock files
Rename files
Alphabetize the catalog
Format a diskVerify, that the disk is good
Verify that files are good
Verify whether or not two files are identical
Check disk drive speed
View the contents of files
See a map of what files are stored where on the disk
Edit any sector or any file
Fix file sizes, to free up wasted disk space
Change the boot program on the disk
Undelete files, to recover files that were accidentally deleted
Copy II Plus 8.4
Copy II Plus 8.5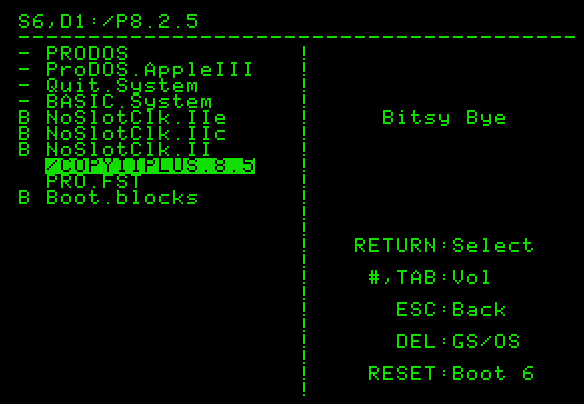 This version of Copy II Plus has been patched to work with the new ProDOS 2.5.
Copy II Plus 8.5 should be completely compatible with the ProDOS 2.5 dates and multi-case filenames.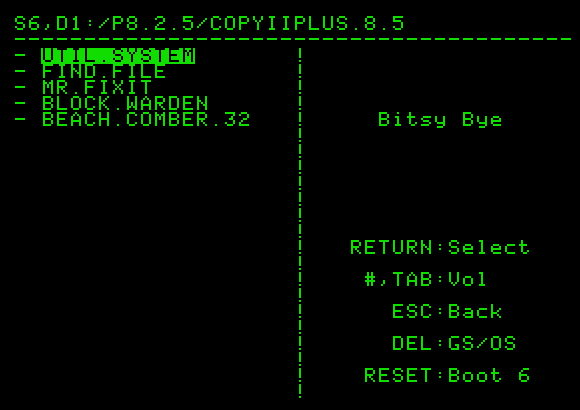 Copy II Plus 8 vs 9
Copy II Plus 9.x required an Apple IIgs, IIc, or IIc+ or another Apple II with 128K of RAM, which is why this latest version of Copy II Plus is based on 8.4.